JerryV

Guest

Has anyone noticed a problem with Caffeine, whereby it will cause the contents in selected cell in Google Sheets to be deleted?   This has been happening for a while now.  If I am in Google Sheets, and put the cursor in a non-empty cell, the contents of that cell will be deleted.   This has happened with essentially every Google Sheets spreadsheet I have ever worked with.   I always have to be careful to "park" my selection in an already blank cell to avoid a problem.   

Is there a solution to this?
JerryV

Guest

Just to be clear, the deletion of the cell contents is not instantaneous and will take up to a minute or so to be deleted.
Sooyke

Posts

: 269


Join date

: 2018-04-28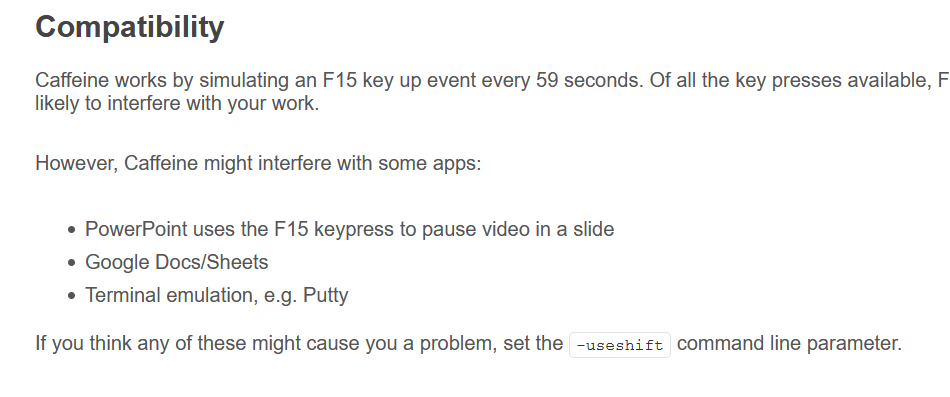 From the info on the website  
https://www.zhornsoftware.co.uk/caffeine/index.html
.
I do not know if it is relevant to the version you are using or if the app is still maintained (
https://zhornsoftware.forumotion.com/t175-targeted-caffeine-and-remote-desktop-via-rd-web-access
) .
NewUser

Guest

Even I faced this issue then started using
Code:

-useshift
this uses shift key instead of F15.
However, is it possible to start caffeine at boot with shift key. I currently have caffeine in my startup folder so by default it uses F15.
NewUser

Guest

Permissions in this forum:
You
can
reply to topics in this forum