Sooyke

Posts

: 430


Join date

: 2018-04-28

For me that menu option brings up a standard Windows colour selection dialog - but that's from a fresh start of the app, with just "Stack skin mode" selected.

If you run Skinner, change mode and choose the menu option, does it crash?

If you add a new hstrip, and then click the Pick button, does that crash?  That button opens the same dialog.

Tom
Sooyke

Posts

: 430


Join date

: 2018-04-28

I downloaded skinner again and with a new " stack mode " opening the menu crashes skinner . Selecting a color as you suggested for a hstrip works fine .
In de zipfile for skinner using the demo win8stack.ini and changing  the default stack skin color crashes skinner too , it brings up the color selection dialog and when you select one after " OK " it closes skinner .
I tried it on two pc 's but same problem ( both computers are almost identical except the processor i3 and i5 ).
I have not found any other problem when making a skin and editing the ini file sets the desired color .
windows 10 pro 21H1  19043.1237
stickies v10.1a
Sooyke

Posts

: 430


Join date

: 2018-04-28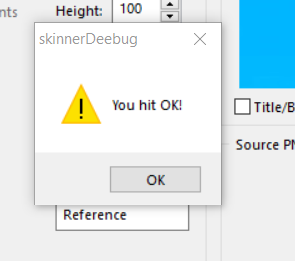 After clicking OK skinner closes . I tried it on two computers and had the same result .
Launch skinner.exe
Select View   Stack skin mode
Select Edit    Stack skin default color
I selected both a preset color and a color from the " color image "  with same results . But it is the only problem , creating a skin goes flawless.....
I'm understanding now.  I didn't check clicking the OK button.

I bet this one is better: https://www.dropbox.com/s/ezby2apeqctp6ui/skinnerBetter.zip?dl=0

Sorry, it's a copy and paste code problem...

Tom
Sooyke

Posts

: 430


Join date

: 2018-04-28

Like the filename already suggests , problem solved
.
Permissions in this forum:
You
can
reply to topics in this forum