cherryredtoenails

Posts

: 4


Join date

: 2022-01-03

Mon Jan 03, 2022 12:19 am
I recently got a new computer with Windows 11, and had to upgrade my Stickies from v8 to v10. This has mostly been a smooth change, except that many of my stored stickies got replicated. For example, on the left, it says there are 9 notes in a particular folder, but in the middle, it says count: 132! If I edit one, they all change, so they are still "connected." What's going on, and how can I fix it? Thanks! (PS I can't figure out how to insert a screenshot without it telling me this post is too long. Sorry. If I could, I'd show a picture of the issue.)
Sooyke

Posts

: 421


Join date

: 2018-04-28

cherryredtoenails likes this post
cherryredtoenails

Posts

: 4


Join date

: 2022-01-03

Tue Jan 04, 2022 12:48 am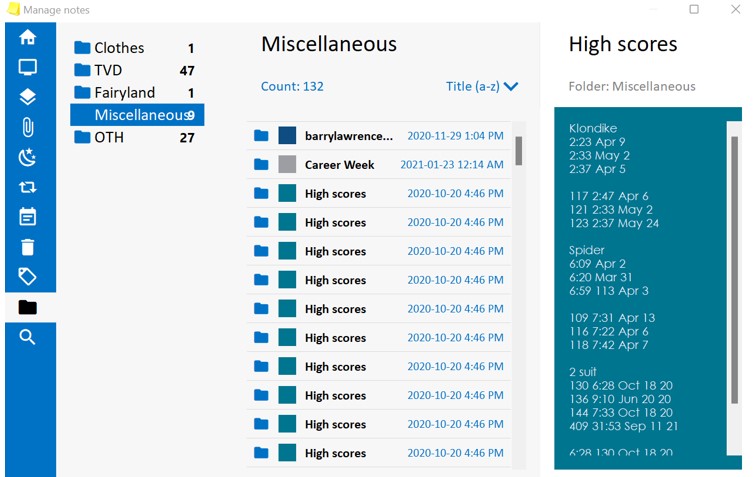 I'm not sure if I'm replying to Sooyke or myself here because I'm still figuring out how this works haha, but hopefully I'm replying to Sooyke. I don't know exactly how the stickies got transferred. The guy at Best Buy did it and he had a heck of a time figuring it out. I think he had to install v10 on my old computer, do a backup, transfer the backup file to my new computer, then restore it on my new computer. I never had v8 on my new computer; it wouldn't install properly because it said I was missing some kind of Windows library that I couldn't get to download. So I figured to heck with it and just upgraded to v10. Tbh I liked v8 better and if I could get it to install, I'd have that one instead but oh well. I can live with v10 if I can un-duplicate my stored stickies.
Sooyke

Posts

: 421


Join date

: 2018-04-28

You can download the missing windows library from here if you have an error running the install v8 or other exe :
https://www.zhornsoftware.co.uk/support/kb.pl?q=00085
Do you still have acces to your old sticky files or running it on your old computer ?
If the database file is corrupt it is better to remake it from the old v8 files unless the problem was already there....
cherryredtoenails

Posts

: 4


Join date

: 2022-01-03

Thank you so much Sooyke! Ok I've downloaded that library now. I do have my old stickies on my old computer, but I've used and updated them so much since then (I bought the new laptop about 2 months ago) that those old files are pretty much useless now. Do you think I should try and install v8 on my new computer and see if my current Stickies files transfer back to v8 smoothly without the duplicates, or is it better just to stick with v10 and deal with what I've got?

(I suppose if I stick with v10, another option would be to just manually make a "new" sticky that's exactly the same as the duplicated ones, and then I can delete the old ones with their dozens of copies. It would be a bit time-consuming but probably the safest option.)

I do like v8 better because I think it looks nicer and is easier to use, but now that I've had v10 for a couple of months, I'm getting used to it, so it's not really a big deal either way. Mostly I just don't want dozens of copies of the same stored stickies.
Sooyke

Posts

: 421


Join date

: 2018-04-28

By default v10 makes a backup every day ( there is a backup directory ) so you can mess around with the database or just make a copy of stickies.db .
I would " copy to desktop " the stickies you want to keep from the " miscellanous " folder ,then delete the folder and make a new one and store the stickies from desktop back into it .
From the helpfile : ( i never get used to the way those folders are created as subfolders to begin with.... )
-------------------------------------------------------------
You can create new folders by right-clicking the tree and choosing New Folder. Folders are placed as a child of the currently selected folder - and can be re-ordered using drag and drop. Dragging a folder onto another folder makes it a child of that folder. Hold shift as you drag a folder onto another one to instead place the folder after the drop target.
--------------------------------------------------------------
I think you are right , if you have used it a few months to keep it . I only hope nothing else is corrupted in the database file but you can always extract stickies from the file if all else fails using ssit10 tool 
https://www.zhornsoftware.co.uk/stickies/tools.html
.
( be aware to use the one for v10 )
Best regards ,
cherryredtoenails

Posts

: 4


Join date

: 2022-01-03

Wed Jan 05, 2022 10:28 pm
Thank you so much! You're right. "Copy to desktop," delete the old one, and re-store the copy is by far the best way to deal with it. The only minor downside is I lose the original "date created," but that is not important for most of them. I really appreciate all your help, have a great week and take care!
Permissions in this forum:
You
can
reply to topics in this forum