Andrea Taylor

Guest

Fri Oct 08, 2021 10:25 pm
new laptop with everything transferred from old one EXCEPT my birthday reminders table.....relied on it for many, many years. How can I import it to the new one. HELP please.
Sooyke

Posts

: 402


Join date

: 2018-04-28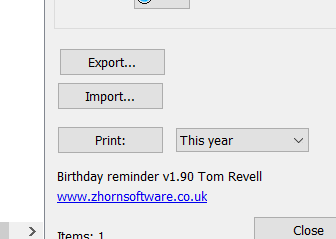 If you can still use it on your old computer , you can export the data to birthday.csv and after copying it import in your new version . I guess this is the preferred way.
Birthdayreminder uses only two files bday.exe and bdays.ini .The data is in the ini file . You could search for the ini and copy to your new computer .
I found the ini here
c:\Users\your username\AppData\Roaming\Zhorn Birthday Reminder\bdays.ini
Permissions in this forum:
You
can
reply to topics in this forum