MHHMHH

Posts

: 1


Join date

: 2020-10-17

Just installed Stickies after a lapse of a few years, and decided to try it again. All I want to do is have a sticky appear every day, starting on a specific time and date, and ending on a chosen date.
There seems to be many choices to make. Would someone please tell me how to set this up?
Thanks
Sooyke

Posts

: 275


Join date

: 2018-04-28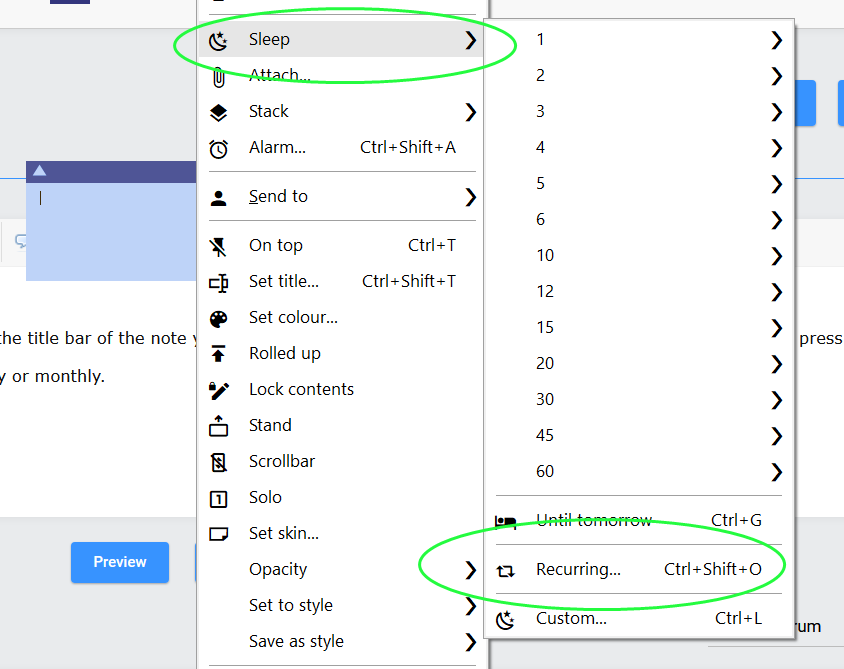 From the helpfile :
Stickies can also be set to wake up as recurring reminders. Either right-click the title bar of the note you would like to serve as a reminder and choose Sleep for, Recurring, or press shift-control-o.
From the dialog window, choose whether the note should appear daily, weekly or monthly.
You can set all your parameters is the recurring dialog window. You can find more information in the helpfile unfortunately windows seems to have a problem using F1 to open it.
You can search for stickies.chm and double click it , in the traymenu " About " option you will find the directories used by stickies where the file is located . ( are use the search function in windows but is can be slow .....)
Best regards ,
Permissions in this forum:
You
can
reply to topics in this forum