pps

Posts

: 2


Join date

: 2021-11-24

Wed Nov 24, 2021 11:10 am
Caffeine is causing the Region window that belongs to the Control Panel to pop up again and again.
I am on Windows 10 Home and I believe it started with the distribution of the 21H1 (Build 19043) release of Windows 10.
I upgraded to 21H2 (Build 19044) and the behavier did not change.
I installed the latest 64 bit version of Caffeine, presumably v1.97, but the issue persists.
Sooyke

Posts

: 430


Join date

: 2018-04-28

Wed Nov 24, 2021 12:22 pm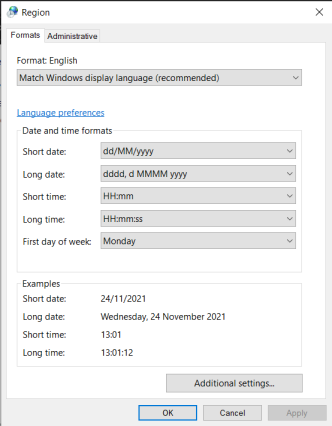 Do you mean this dialog ? There is no real hotkey for it unless you create one with intl.cpl commandline.
I do not have this problem , you could change the key that is send by caffeine ( default F15 ) to shift or any other key.
You can find the options here :
https://www.zhornsoftware.co.uk/caffeine/index.html
pps

Posts

: 2


Join date

: 2021-11-24

Yes, I do mean this window.
To double-check I ran 
[System.Windows.Forms.SendKeys]::SendWait("{F15}")
in PowerShell ICE and it also pops up this window.
Shift-F15 wich is sent by 
[System.Windows.Forms.SendKeys]::SendWait("+{F15}")
does not have any side effect on my system.
So, I changed the link to caffeine.exe which I have in my Start menu:
Its Properties > Shortcut > Target is now set to 
"C:\Program Files (x86)\Caffeine\caffeine.exe" -useshift
Now it works without popups.
Thanks
Permissions in this forum:
You
can
reply to topics in this forum