ibrahim4512

Posts

: 7


Join date

: 2021-02-19


Age

: 29


Location

: Egypy

Hello
Just a question please, when i open manage stickies it always not open in maxmize window.
Every time I open it i have to press in maxmize.
Is there any way for it to open in maxmize automatically.
Thank you very much
Sooyke

Posts

: 421


Join date

: 2018-04-28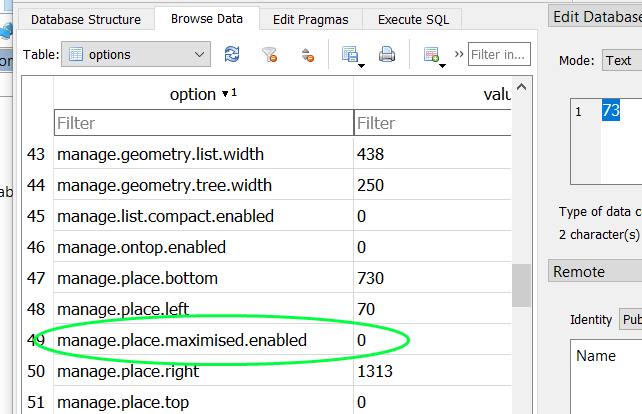 The option is in the database but it seems the value is not updated if you change the window to " maximise ". I do not know if there is a way to change it unless you edit the database file 0 > 1 and then it is always maximized.
You can post it in " Feature Request " on this forum . As a workaround if you do not want to edit the database file you can resize the window to fill the screen these values are updated and used even after a restart .
ibrahim4512

Posts

: 7


Join date

: 2021-02-19


Age

: 29


Location

: Egypy

Thu Nov 11, 2021 12:27 pm
Can you please advise how to open this menu? 

Thank you for your answer
Sooyke

Posts

: 421


Join date

: 2018-04-28

It is not a menu item . The screenshot is from another program for viewing and editing database files . If you are not familiar with database structures i would not recommend using it ! It is easy to corrupt the file by making a wrong change.....
You can post a feature request on the forum , Tom Revell can take a look at it and maybe implemented it as it is a small change in the code .
screenshot is from :
https://portableapps.com/apps/development/sqlite_database_browser_portable
ibrahim4512

Posts

: 7


Join date

: 2021-02-19


Age

: 29


Location

: Egypy

I just added a request to Feature Request
Thank you for your help and wish you all the best
Permissions in this forum:
You
can
reply to topics in this forum