bmclen

Posts

: 9


Join date

: 2021-05-08

Hello All!
[1] Activate Skinner > Skin Preview > [X] Element  (see first image below)
[2] Load existing skin or start a new skin and create a TEXT element
[2a] Font > (o) Center  (see third image below)
[2b] Range   
Left:-144
  Top:24 
Right:-12
  Height:15
       The pink bar is defined by the RANGE settings; we know that.  
       The TOP and HEIGHT are set as needed for the overall skin background shape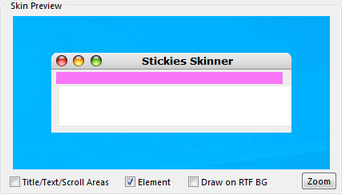 [3] The "element" (pink bar) is NOT centered visually, deliberately for this question
      I select the FONT area, and mark "(o) Center"
      I then update the INI and SSK files
      Upon applying that skin, the text in the element is NOT centered?  (see next image)
      Why?
[4] It seems you have to adjust the LEFT/RIGHT settings so the actual text *IS* centered visually, instead of mathematically!
      Here is the MACOS skin with "(o) Custom" set to    Last modified on  %MODIFIED%"

I suspect my problem is that the width of %MODIFIED% will change with two-digit months, and two-digit days.  :-)
But the above "Last..." text is waaay off center regardless.
Is there no way to center the custom text automatically using the text element settings?
*OR*
Should I select  FONT > LEFT  or  FONT > RIGHT and continue to adjust settings?  (which doesn't make sense to ME! 
 )
I just need to understand how to achieve these results as centering is an aesthetic for me.  
Thank you all for your expertise and insight! *WONDERFUL* and flexible tool!!  Couldn't live without it!
THANK YOU, TOM !!!!
Sooyke

Posts

: 404


Join date

: 2018-04-28

bmclen

Posts

: 9


Join date

: 2021-05-08

Tue Jul 06, 2021 12:47 am
Hello Sooyke!
Thank you, as always, for the quick reply!
I just happened to discover that I had set RANGE > LEFT >
MIDDLE
!!!  The "middle" should actually be "Sides"!  That should help the calculation. 
As to the negative value, yeah, that was likely an oversight from a left-over skin, I'M SURE!! 
Please try the "(o) Custom" setting for a regular text element as shown in the bottom image of my original post to determine if the length of system variable (%MODIFIED%) is confusing the centering algorithm when included with text in the Custom input box:
"(o) Custom"   [Last Modified on  %MODIFIED%]   (a deliberate extra space was added after "on" for aesthetics)
Thank you for your research time on this!
Bruce
Sooyke

Posts

: 404


Join date

: 2018-04-28

Tue Jul 06, 2021 10:13 am
bmclen

Posts

: 9


Join date

: 2021-05-08

Hello Sooyke!

I am using "Stickies Skin Designer v4.20".  When I highlight the "modified" text object in Layout > Elements, my Skin Preview doesn't show anything; YOUR preview makes sense (it contains a grey text-bar element WITH the info you've specified).  Do I need to upgrade?  I noticed you did *NOT*  mark  [X] Element under the Skin Preview window.  When I mark  [X] Element, I see a purple element bar that I created in the text element dialog box.  There is NO content - just the bar.  So, it would seem I need to enable a setting or two or upgrade.  Hmmm...

Your screen image shows, "09:19, Tuesday, ... 2021" in the "Created/Modified:" text box in the Skin Settings area.  What object did you create for your date info to appear in the grey element?  Since your element echoes this long date info, which is it?  Created or Modified?  :-)

I'll keep experimenting... LOTS of good stuff here!

Thanks, again!

Bruce
Sooyke

Posts

: 404


Join date

: 2018-04-28

Thu Jul 08, 2021 11:44 am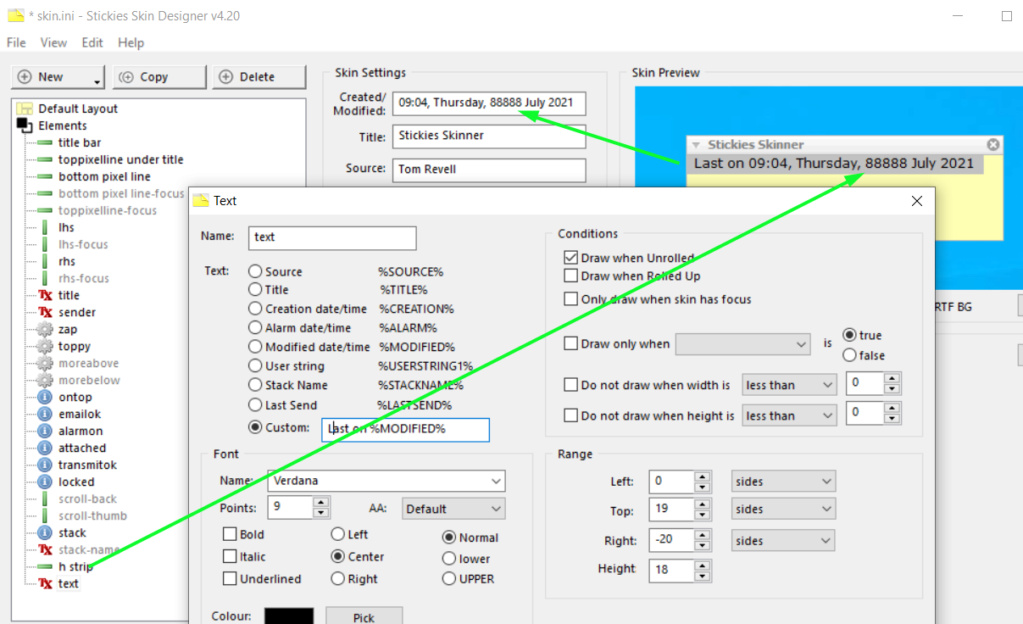 You can edit the text in the default " skin settings " to change the modified time string . The grey bar has the same dimensions as the purple element indicator but as it is hardcoded as a horizontal bar it is also visible in a " real " sticky to verify if the text is centered .
Maybe you did not have any text in " custom " text because you did not see anything in preview ?
Skinner version is v4.20 i think it is the latest one.
With the text element selected, check the box under the preview "Highlight selected element" or "Element".  That will show you the bar that the text is getting drawn into.  I'd expect the text to be in the centre of that horizontal rectangle.

However, I hope/expect you'll find that the rectangle itself is the problem, and it's not what you expect.  Given your first screenshot I'd expect the "left" value to be about 5px, and the "right" value to be -8 - and both of those from "sides"?

Tom
Permissions in this forum:
You
can
reply to topics in this forum