sfadschm

Posts

: 3


Join date

: 2021-04-26

Mon Apr 26, 2021 12:13 pm
Hi all,

I am wondering if we can somehow disable the "new Note on Double-Clicking the Taskbar Icon" feature?

Couldn't find anything in the settings, KB or forums so far.

I tend to use the taskbar icon to bring my open notes to the front but happen to double click it more often than I would want to admit.

Thanks and cheers
Alex
Sooyke

Posts

: 402


Join date

: 2018-04-28

You can put it in this forum " feature requests " . It is more followed by Tom Revell i think .....
As a workaround you can use the apicmd.exe to execute the command " do bringforward " and put it on the taskbar .
Clicking the icon will have the same effect , double clicking does nothing ( well actually doing the same ....)
You can select a stickies icon in its " Properties dialog " when you select stickies.exe in Change icon.
https://www.zhornsoftware.co.uk/stickies/api/sample_apicmd.zip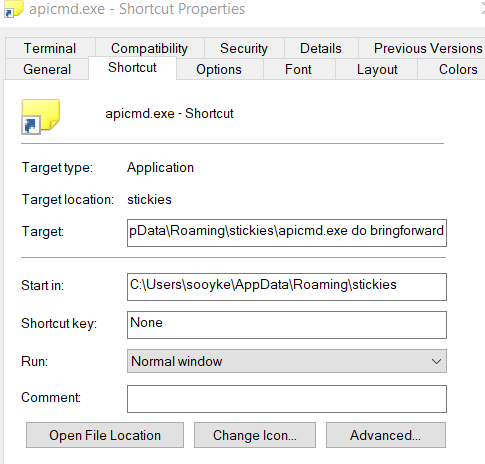 sfadschm

Posts

: 3


Join date

: 2021-04-26

Hey Sooyke,
thanks for the quick response!
This looks like a useful workaround and should do its part for now.
Having a double-click also just open the note is just perfect for me
I will add this to the request section as well.
Thanks and cheers
Alex
Permissions in this forum:
You
can
reply to topics in this forum