Perkin5

Guest

Is it possible to hide a sticky from screen view but keep it available in 'Manage notes' for re-show when required? I have too many to show all the time but I want to keep them.
Sooyke

Posts

: 275


Join date

: 2018-04-28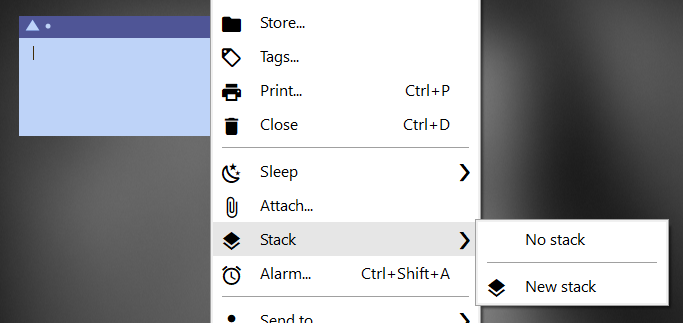 Have you looked into the use of stacks ?
There are other solutions but it needs ahk (
https://www.autohotkey.com
) to use , i use it because you can create your own rules what to hide and how to hide/show . Stacks seems the easy way to go
LaurentG

Posts

: 27


Join date

: 2020-01-16

Hi Perkin5,

what you ask for is exactly the "Store" feature.
Right click on the corresponding Sticky, then choose Store, create (if not existing yet) or select one sub-folder, and click Store.

Your Sticky is no more on the desktop, but in "Manage Notes" in the "Store" tab, from wich you can, when you need it again on desktop, (with a Right-click) move it to desktop, or create a copy on desktop.
perkin5

Posts

: 1


Join date

: 2021-03-18

Thu Mar 18, 2021 10:34 pm
Thanks very much for that tip! So easy when you know how. Don't know what I'd do without Stickies...
Permissions in this forum:
You
can
reply to topics in this forum