Sooyke

Posts

: 294


Join date

: 2018-04-28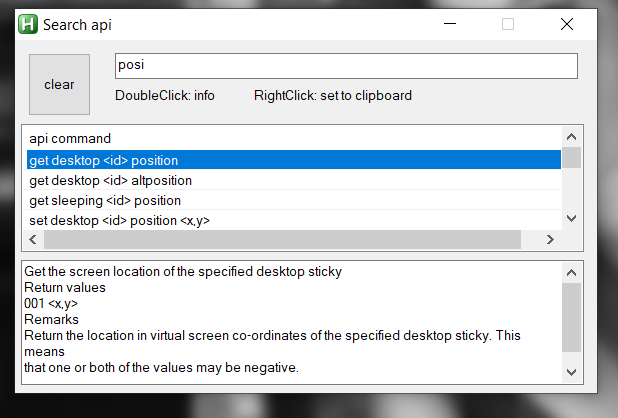 The code has to many characters to paste in this post because of the stickies api's data are included.
You can download the file from the AHK website :
https://www.autohotkey.com/boards/viewtopic.php?f=6&t=83398
Thu Dec 03, 2020 11:00 pm
Hey there Sookye - cool utility!
From time to time I make changes to the API, and I don't want you to have to keep close track or re-type too much work.  If you download the source of the API page from the web site, you should, I hope, find that the HTML is neat and tidy, and can be easily parsed to turn into what you have there.
All my HTML is hand coded (yes, I know, that's crazy these days but it keeps the site simple.  You'll not see any of those stupid annoying "Are you OK with cookies" messages because there are no cookies getting created!) so there might be the odd place that I've missed something, but you can likely use: "
<P
CLASS
="
zcommand
">" to find new commands, along with "
<P>
<B>
Return values
</B>
</P>" and "
<P>
<B>
Remarks
</B>
</P>".
Tom
Permissions in this forum:
You
can
reply to topics in this forum