Æthel

Guest

I cannot enforce my choice in font for the stickies that I create. The least able action is to simply select the text → right click → font → select recent choice. Explicitly choosing the font through text selection → right click → font → font → select font, font style, font size is often more successful. Often, however, it simply will not work. I am inclined towards a kludge of having the ability to either ① Strip all font information from the sticky and reapply it as wanted, or, ② Enforce a predefined default font for the entire program or for each sticky. What am I doing wrong? Pasting the text from a text editor, to strip all formatting, often fails as well. That is what I generally do because the program won't allow me to strip or alter leading or the space between lines. I haven't been bothered by kerning, or the space between letters, but I don't think that is changeable either. A better kludge would be to allow the program/user strip all formatting, except for line feed and carriage return, to a a UTF-8/16/32 string. Has anyone been able to reliably enforce fonts or avoid the problems I have mentioned? Is the program able to act like a text editor in which all formatting information is stripped and the font explicitly set?
Sooyke

Posts

: 294


Join date

: 2018-04-28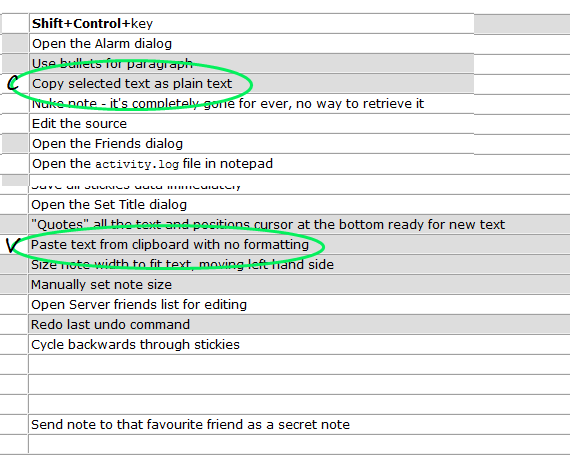 ctrl+shift+c  will copy without format
ctrl+shift+v  will paste without format
I have no problem changing a font using the rightclick menu my sticky version is  v10.1 and OS is win10 2004 pro and as far as i know there was other post about it on the forum .
Did you try to do the same change in Wordpad ? ( It has the same edit control code as used in stickies )
Best regards,
Permissions in this forum:
You
can
reply to topics in this forum