charsee

Posts

: 2


Join date

: 2020-10-15

hello, the note won't stay in the corner I put. When I click another window or browser, it goes off screen and hides, I have to go to tray and click the Tray icon then it shows up but as soon as I click another window it hides again. Is this a known bug or I'm having issues with settings? Few times I have managed to keep it on the desktop but when I use "show desktop" in the bottom right corner, it goes off again. It's so annoying.
Sooyke

Posts

: 294


Join date

: 2018-04-28

Are you sure it goes offscreen ? You can lookup its coordinates in the " Manage Notes " the desktop notes and properties of the one you think is offscreen.
The " problems " you describe look very much like  " features " but then you have messed around in the settings !
First in the Settings appearance it needs the opacity setting at 10 to get a similar effect .
and at the same time  in Settings Desktop active stickies change to opaque :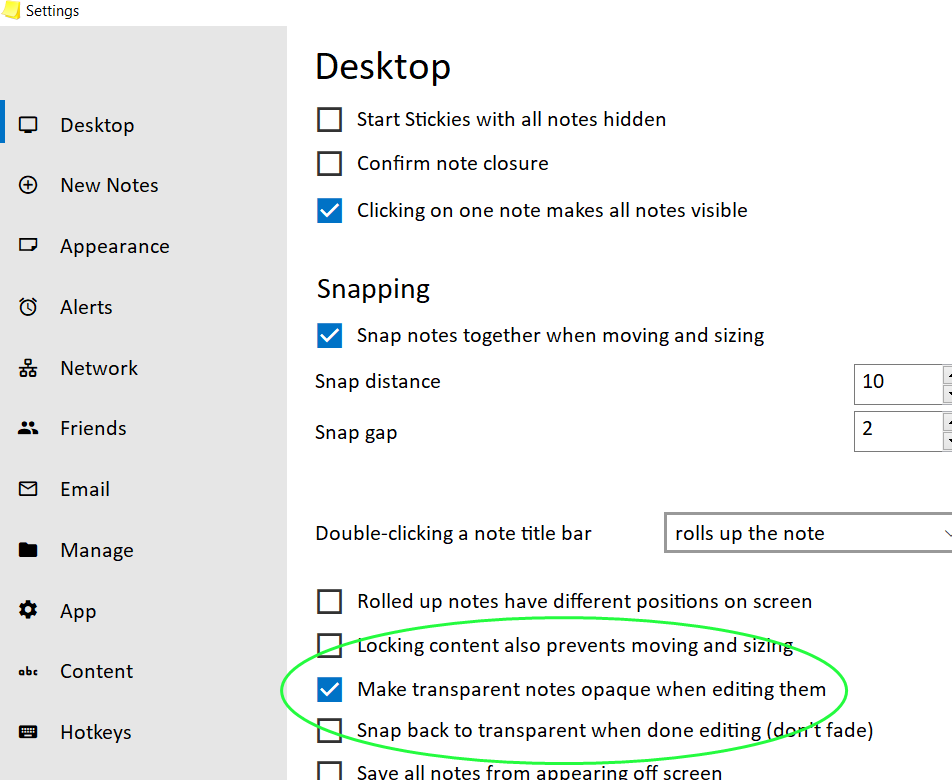 This is just a guess because it would give similar effects .
Best regards
charsee

Posts

: 2


Join date

: 2020-10-15

thanks, I changed settings to yours. It seems to have fixed problem #1, clicking the bottom-right corner (show desktop) still hide the note but clicking it again pop it back up so i guess there's a workaround.
Sooyke

Posts

: 294


Join date

: 2018-04-28

Fri Oct 16, 2020 10:09 am
Permissions in this forum:
You
can
reply to topics in this forum