Mikayla1122

Guest

on Fri Aug 21, 2020 2:27 pm
This is probably a dumb question for most of you, but I need to know how to get caffeine to go from using the F15 key to the useshift option because it is messing with my google sheets. Can anyone just list the steps I would need to follow to do it? I can't seem to figure it out.
Sooyke

Posts

: 212


Join date

: 2018-04-28

on Fri Aug 21, 2020 4:26 pm
There are several ways to do it.
- locate the caffeine exe file in File Explorer
- rightclick it and select create shortcut
- rightclick the new created shortcut file and select properties
- add  -useshift  ( see image )
- you can run the shortcut or put it in the startup folder to start with windows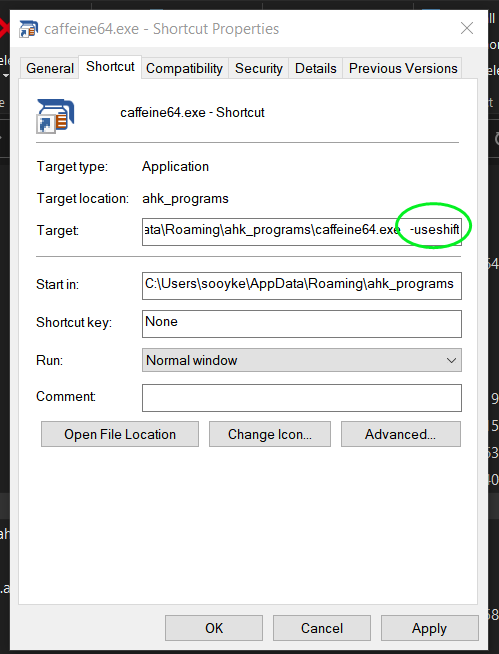 You can also create a .bat file see the post here (you need to change the file path and only use the -useshift parameter )
https://zhornsoftware.forumotion.com/t347-caffeine-multiple-command-lines
Good luck 
Permissions in this forum:
You
can
reply to topics in this forum