on Mon Feb 25, 2019 12:52 pm
Stickies database for storing stickies keeps growing in size , deleting entries does not remove the space and the filesize remains the same.
After using it to store images from screencapture the size went up to 45Mb even after deleting the images.
Stickies version 8 had a compact database option ( in the Manage Stickies window ) but this was removed in version 9 ? Microsoft provides an utility ( very basic ) to cleanup the mdb file . After running the store.mdb went from 45Mb to 8Mb......
I used it on a win10 pro windows without problems even if win10 is not listed in microsoft's notes.
https://support.microsoft.com/en-us/help/295334/jet-compact-utility-is-available-in-download-center
on Sat Mar 02, 2019 4:53 pm
Pressing shift-control-c in the Manage dialog will compact the database.

Incidentally, images aren't stored in that mdb file (although that will change in the next release of Stickies).  Right now they're saved as PNG files in the "images" directory.

Tom
on Sun Mar 03, 2019 10:46 am
There were a few mixed text/image stickies  where the screenshot was annotated stored in the mdb ( each one was 6Mb ) , even with resized images they retained there original size .

Thanks the shortcut works well , maybe the mdb size does not really matter in performance but it did look strange .
on Sun Mar 03, 2019 10:18 pm
on Mon Mar 04, 2019 8:49 am
There are 4 desktop stickies the rest are stored ( 12Mb store.mdb ) i created 40 recurring stickies but still the load time is less than 2 seconds .
It is on a win10 pro running from a SSD on a cheap low end computer ( intel j2900 ).
How do you know it is still loading ? Do the desktop stickies only appear after 45 seconds ?
on Thu Mar 14, 2019 9:14 pm
Sooyk wrote:
How do you know it is still loading ? Do the desktop stickies only appear after 45 seconds ?
@Sooyk, sorry for my late response.
"How do you know it is still loading " -I see its CPU on process explorer tool.
"Do the desktop stickies only appear after 45 seconds ?" - yes (for at least a year).
BTW - for comparison my Waterfox browser (with 85 addons) loads after only a few seconds.  My Evernote with 3270 notes loads after 5 seconds.
RAM - 4GB
Pentium(R) Dual-Core CPU E5500 @ 2.80GHz
Disk C: 13467 MB Available, 152513 MB Total, 13467 MB Free
Disk D: 60 GB Available, 149 GB Total, 60 GB Free
Win 7 x64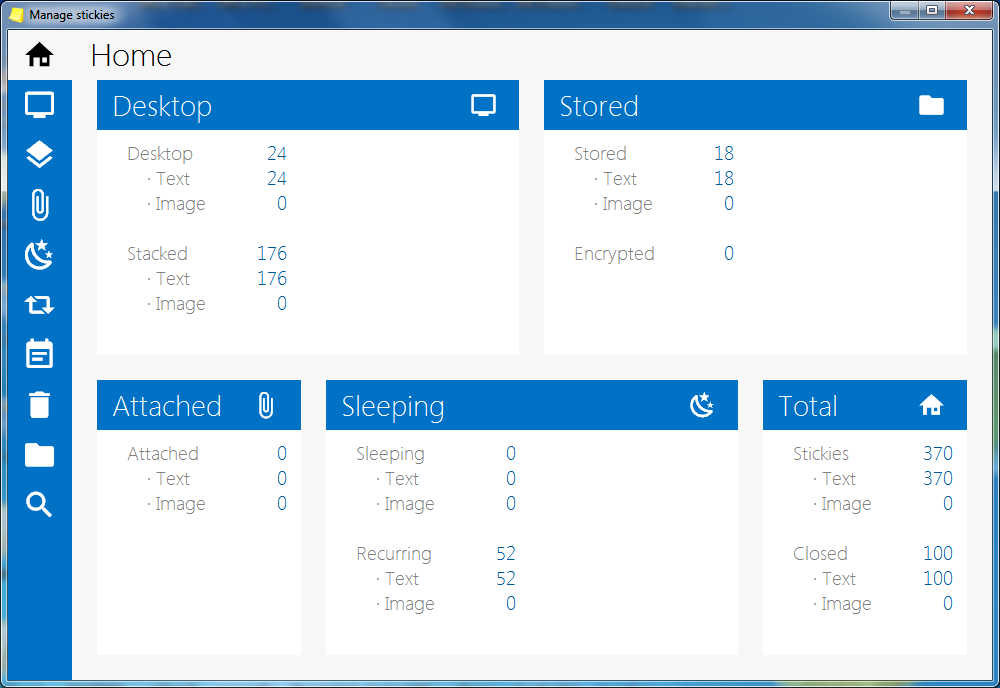 on Fri Mar 15, 2019 8:27 am
Do you mean a high cpu value ?
You could enable  stickies debugmode in Options / Advanced , it seems to also log while starting up .
on Thu Apr 04, 2019 10:07 pm
Ah yes, that's the missing info - I suspect the problem is down to the 176 desktop notes which are in a stack.  Although they might not appear on the screen, the windows are still created when the app starts, so that when you expand a stack it can happen straight away instead of then having to go to the disk to load them.

Are you able to move any of those stacked notes into a store category, or does your workflow need them to be in stacks?

Tom
on Thu Apr 04, 2019 10:42 pm
First, thanks for taking the time to help with this issue.
To answer your question - I use stickies with stacks much more than I use them when they are archived (stored).

Would you please consider changing the Launch process so that it will fully load only the desktop stickies and load the stacks without creating the "hidden windows" of the stacks' stickies ?
I really don't mind if it takes a few seconds for a stack to expand. I have about 16 stacks. Every stack has about 10 stickies. On a specific day I don't expand more than 3 stacks so I don't need the the stickies-program to load all my 16 stacks at the launch.
on Sun Apr 21, 2019 2:51 pm
It's something I can bear in mind, sure, although for every user who wants delay-loaded stacks (loaded at expand time), there will be one who wants instant stacks (loaded at app-launch time)...

Tom

Permissions in this forum:
You
can
reply to topics in this forum